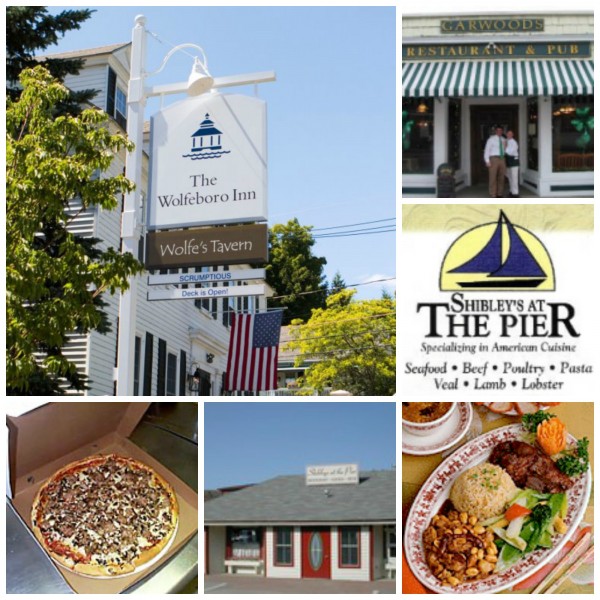 There are many wonderful restaurants within a 10-20 minute drive of the campground, but we can't possibly list them all here! So we chose our favorites that we personally frequent in hopes that you will find favor with their offerings. Please visit our office or call us for directions.
Wolfeboro Inn & Tavern – Wolfeboro, NH
Wolfe's Tavern, an authentic New England pub, is Wolfeboro's most popular place to enjoy an informal meal. Enjoy hearty New England fare from our
extensive menu, appetizers, sandwiches, burgers, prime rib, seafood, and much more. Start your Beer Card (over seventy beers from around the world)
to earn your own pewter mug. Relax and dine in one of our three fireplaced pub rooms, at our bar or on the patio. Wolfe's Tavern is open every day, year-round for breakfast, lunch, dinner and the best Sunday brunch in the Lakes Region!
Phone: 1-800-451-2389 or 603-569-3016
Website: www.wolfeboroinn.com
---
Garwoods Restuarant – Wolfeboro, NH
Garwoods is starting a new history of excellence in food and casual dining. Enjoy stepping up to our waterfront lounge area overlooking Wolfeboro Bay. Enjoy a variety of delicious appetizers before dining on gourmet dishes that will leave you satisfied and wanting to make Garwoods a ritual in your life. Garwoods welcomes you to Wolfeboro and hope that you enjoy your lakeside dining experience. Conveniently located on 6 North Main Street, Wolfeboro, NH 03894
Phone: 603-569-7788
Website: www.garwoodsrestaurant.com
---
Downtown Grille Cafe – Wolfeboro, NH
The Downtown Grille Cafe serves breakfast, lunch and occasional dinner events. They offer the finest organic and fair-trade gourmet coffee and tea, which make for excellent espresso, cappuccino, and other coffee drinks. Enjoy a table by the window on Main Street, a table in our Lakeside Room, our Loon Meeting Room, or to relax on the deck overlooking Wolfeboro Bay and Cate Park.
33 S. Main Street, Wolfeboro, NH 03894
Phone: 603-569-4504
Website: www.downtowngrillecafe.com
---
The Wolfetrap Restuarant – Wolfeboro, NH
Sit back and enjoy a steaming fresh lobster, or grab some hot steamers. You name it and it's easy at the Wolfetrap. Everything there is cool and
casual, even the "Wolfewear" clothing. The atmosphere is like a Nantucket shanty. The menu is a favorite among adults and kids alike. The view of
The Back Bay is sparkling with a touch of boat action. Inside Wolfetrap's inner sanctum, you'll find a long hand-built copper bar, a hi-tech lobster pool and numerous cafe tables. It's a great nightspot. Topping off the experience is a free shuttle service by boat! Board their antique boat at the town docks and ride through quaint Back Bay. Discover wolfetrap today and "get trapped".
Phone: 603-569-1047
Website: www.wolfetrap.com
---
East of Suez – Wolfeboro, NH
Authentic Pan-Asian cuisine served all summer in a rustic 100 yr. old lodge on the outskirts of Wolfeboro. Philippine Adobo, Thai curries, lorean BBQ, Japanese Tempura and Sushi. Powell Family owner/operators. Our menu is small, specifically so, to represent the time-honored favorites our patrons have grown to love over the years; however each evening we experiment by adding choice delicacies to our collection in much the way a traveler gathering mementos might do, if he ventured to explore the 'East of Suez'. Please relax and enjoy your dining experience, we hope you will indeed return to visit us again soon. Located on 775 South Main Street Wolfeboro, NH 03894
Phone: 603-569-1648
Website: www.eastofsuez.com
---
The Cider Press – Wolfeboro, NH
The Cider Press is just outside the center of downtown Wolfeboro. Twelve large apple trees stand in a courtyard near the parking lot. The awning over the door is a welcoming site, graced with pumpkins in the fall and an evergreen wreath in the winter. We are open year round and hope to see you often. The interior is warm and cozy. In the winter you can find fires burning in the two fireplaces. The candle-lit tables in the main dining room look like refinished antiques with woven placemats and linen napkins. The upper dining rooms are graced with linen tablecloths, seating 125 diners. Reminiscent of an early gathering establishment, The Cider press Restaurant and Tavern welcomes you with warmth and casual ambiance in every dining area. The fireplace room, as the main dining room, offers fine country dining next to a warm hearth, and a menu that includes delicious seafood, steaks, chicken and chops. Located on 30 Middleton Road Wolfeboro, NH 03894
Phone: 603-569-2028
Website: www.theciderpress.net
---
The Morrissey's Front Porch – Wolfeboro, NH
The Morrissey's Front Porch is the premiere Lakes Regions Family Seafood Restaurant, specializing in fresh recipes made from scratch daily. Our extensive menu includes signature items such as, Award winning Haddock Stew, Coconut Fried Shrimp, Sweet Potato Fries, Romaine Wraps, Roast Turkey Dinner, Large Fried Sea Scallops, Prime Rib French Dip, Fresh ground burgers and bison with over 20 toppings. In addition, we serve the sweetest lobsters in the region from our state of the art, chem-free lobster tank, and offer over 35 flavors of Premium Ice Cream and Soft Serve Ice Cream. Our weekly specials include selections such as Roast Pork, Roast leg of Lamb and New England Boiled Dinner. Located on 286 South Main Street Wolfeboro, NH 03894
Phone: 603-569-3662
Website: www.morrisseysfrontporch.com
---
Jo Green's Garden Cafe' – Wolfeboro, NH
A popular casual dining restaurant on the second floor. You can sit and watch the boats come into the Wolfeboro docks, as you enjoy a fabulous meal. Their menu has plenty to offer, not counting the fresh salad bar. Whether you are eating lunch or dinner, you are sure to find something you like. Jo Green's also has Elevator service, an upper deck Pub & Game Rooms. Why would you need to go anywhere else? Open all year. Located on 33 Dockside St Wolfeboro, NH 03894
Phone: 603-569-8668
Website: www.jogreensgardencafe.com
---
Hucks Hoagies – Wolfeboro, NH
Hucks Hoagies have been serving quality hot and cold Hoagies since 1988. Eat in or call ahead for take out. They are open year round, seven days a week. Enjoy hot hoagies like Deluxe steak, Cheeseburger Hoagie, Chicken Parmesan, Buffalo Chicken, Pastrami, Meatball, Sausage, BLT, and more. Classic cold hoagies like chicken salad, tuna, turkey, ham, roast beef, bacon, cheese, and many others. They also have soups, salads, french fries, onion rings, chicken wings as well as chili. They are located on 4 Valley Lane, Wolfeboro, NH 03894
Phone: 603-569-6122
Website: www.huckshoagies.com
---
Bailey's Bubble – Wolfeboro, NH
Serving the best creamy soft ice cream, and Richardson's delicious homemade hard ice cream. Try their famous homemade fudge, butterscotch, and penuche sauces. You can even order jars of their wonderful homemade sauces throughout the year. Enjoy flavors like Vanilla, Maple Walnut, Chocolate, Butter Crunch, Coffee,
Moose Tracks, Strawberry, Maine Black Bear, Mint Chocolate Chip, Oreo Cookie, Cookie Dough, Peach, Chocolate Chip, Grape nut, Black Raspberry, Snickers,
Peppermint Stick, Coffee Heath Yogurt, Orange Sherbert, Jerry's Cherry Chip, Almond Joy, Raspberry Sorbet, and Low Fat / No sugar added Black Raspberry.
They are located on 1 Railroad Ave, Wolfeboro, NH 03894
Phone: 603-569-5285
Website: www.baileysbubble.com
---
Shibley's At The Pier – Alton Bay, NH
Lots to watch while enjoying lakeside dining on Lake Winnipesaukee. Lunch or dinner 7 days/week spring, summer, and fall. Everything on their menu is cooked to perfection and served hot. They specialize in American cuisine. Seafood, beef, pasta, poultry, veal, lamb, and lobster can be found on their excellent menu. Boat docking is available if you care to drive over in your boat. Dine on the sun deck and watch the boats go by, or enjoy the relaxing atmosphere of their dining room. They are located on Route 11, Alton Bay, NH 03810
Website: www.shibleysatthepier.com
---
J.P. China Restaurant & Lounge – Alton Bay, NH
If you are craving the bold flavors of authentic Chinese food, come to J.P. China Restaurant & Lounge! Our talented, experienced chefs create authentic Chinese dishes using fresh ingredients and traditional Chinese recipes. Exotic sauces and flavors intermingle on your plate, and the hot, tangy aromas waft up to meet your nose, creating an exciting taste journey you can experience only in our restaurant. We offer distinctive cuisine in an informal, friendly setting. Conveniently located in Alton Bay, our restaurant enjoys a reputation for impeccable service, elegant Asian-style décor, and exquisite Chinese food. Lounge smoking is permitted, we accept reservations, and have gift certificates available that make the perfect gift for any occasion. Dining at our restaurant is like visiting China without leaving your hometown—an exciting blend of authentic Chinese food, culture, and atmosphere awaits. Located on 403 Main Street, Alton Bay, NH 03810
Phone: 603-875-8899
Website: www.jpchinarestaurant.com
---
Sandy Point Restaurant – Alton Bay, NH
Sandy Point Restaurant offers famous lobster and prime rib specialties with a variety of other offerings for your dining enjoyment. In season they are open for breakfast, lunch and dinner for your vacation dining convenience. For a preview of their menu, please click here. They are located on 186 Mount Major Hwy in Alton Bay, right down the street from Shibley's At The Pier and J.P. China Restaurant & Lounge. We highly recommend stopping by Sandy Point for breakfast. You'll thank us later!
Phone: 603-875-6001
Website: www.sandypointbeachresort.com
---
T-Bone's Great American Eatery – Laconia, NH
We feature a fantastic selection of ultra fresh, made-from-scratch classics including our own Premium Reserve Steaks, Line-caught Baked Haddock, NH's Best Burger 5 years running, and award winning salads. Enjoy your dinner in the comfort of our beautifully decorated dining room or celebrate the view on our deck overlooking Lake Winnipesaukee. Open daily 11:30 AM- 12:30 AM. You may also enjoy the convenience of take-out and call ahead seating.
Phone: 603-528-7800
Menu: Click Here!
Website: www.t-bones.com
---
Other Restaurants
Mise En Place
96 Lehner Street
Wolfeboro, NH 03894
Website: www.miseenplacenh.com

Olde Bay Diner
Route 11
Alton Bay, NH 03809

Seabird Asian Cuisine
89 Center Street
Wolfeboro, NH 03894



Strawberry Patch Restaurant
50 North Main Street
Wolfeboro, NH 03894
Facebook: https://www.facebook.com/pages/Strawberry-Patch/106551772741937

West Lake Asian Cuisine
2000 Center Street
Wolfeboro, NH 03894


Yum Yum Shop & Bakery
16 N. Main Street
Wolfeboro, NH 03894
Website: www.yumyumshop.net

Dunkin Donuts
23 Center Street
Wolfeboro, NH 03894

Louis Pizza
Kingswood Plaza
Wolfeboro, NH 03894

Lydia's Cafe
33 North Main Street
Wolfeboro, NH 03894
Website: https://www.facebook.com/pages/Lydias-Cafe-of-Wolfeboro/358070004312069


McDonalds
15 Homestead Pl
Alton, NH 03809