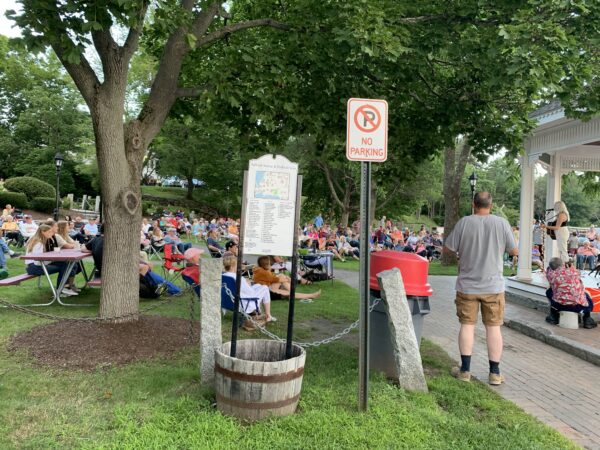 Mt Washington Cruise – Lake Winnipesaukee
Take a ride aboard the M/S Mt Washington! Enjoy one of the most beautiful scenic cruises in New England. The rides are narrated and can be boarded from several different location around the lake including Wolfeboro, Alton Bay, Weirs Beach, Meredith, and Center Harbor. During the Summer Season dinner dance and theme cruises are a nightly event. There is also discovery cruises and family days. The Fall Foliage Season on Lake Winnipesaukee is the most spectacular display of color in New England. Cruises are available from late May through late October.
Website: www.CruiseNH.com
E-mail: info@cruiseNH.com
---
Meadowbrook Musical Arts Center – Gilford, NH
Meadowbrook Musical Arts Center, on the shores of beautiful Lake Winnipesaukee, in Gilford, New Hampshire, started as a vision on a grass field in the middle of a tree farm. We have evolved into New England's premier concert venue. Our staff is devoted to making your concert experience something you will remember for years to come. Whether you're looking for classic rock, pop, R&B or some rockin' country, we can bring out the music lover in everyone. From the time you purchase your tickets, until the last note is played, we aim to bring you the best in customer service. You will find our friendly staff eager to help. Do not hesitate to let us know if there is anything we can do to make your visit more enjoyable.
Website: www.meadowbrook.net
Phone: 603-293-4700
---
Pirate's Cove Adventure – Weirs Beach, NH
Come aboard mates! Immerse yourself in the world of pirates! Putt your way through mountain caves, over footbridges and under cascading waterfalls! Learn of the exploits of the rowdiest pirates that ever roamed the seas! Pirate's Cove , "the Original Adventure Golf," offers an unequaled miniature golf experience! The adventures and legends of infamous pirates come to life in our award-winning theme park settings. Putt your way through caves, over footbridges, and under cascading waterfalls, all amidst a fun-filled atmosphere of natural wonders, extraordinary landscaping, and enchanting pirate lore.
Website: www.piratescove.net
Phone: 603-366-5058
---
The Wright Museum – Wolfeboro, NH
The Wright Museum is a one-of-a-kind non-profit institution dedicated to teaching present and future generations about the significant and lasting impact the years 1939-1945 had on the United States and the world. There are three distinct buildings: the Home Front and theater, the two-story educational building or Visitor's Center and the military building which houses memorabilia from all branches of service from WWII including a large collection of military vehicles from this era. It is air-conditioned, wheelchair accessible and the parking lots have ample space for tour buses. The museum can be booked for special presentations.
Website: www.wrightmuseum.org
E-mail: wrmuseum@aol.com
---
Winnipesaukee Belle – Wolfeboro, NH
A turn-of-the-century paddle boat that ran up and down the Mississippi River. Offered on a charter only basis, the "Belle" accommodates up to 150 people and is ideally chartered for Company or Family Outings, Anniversary Parties, Rehearsal Dinners and Wedding Receptions, Birthday Celebrations, and Senior or Motorcoach groups. Two decks offer a choice of cruising outdoors under the canopy, or indoors in our main salon, air-conditioned/heated for your comfort. Winnipesaukee Belle charters depart from the Wolfeboro Town docks.
Website: www.wolfeboroinn.com
E-mail: info@wolfeboroinn.com
---
NH International Speedway – Loudon, NH
New Hampshire International Speedway is New England's premier NASCAR venue! Located is beautiful Loudon, New Hampshire, NHIS serves as host to 2 exciting NASCAR races each year! Seating over 100,000 fans, the New Hampshire International Speedway is New England's largest sports venue. Since 1993, NHIS has dedicated itself to hosting world-class NASCAR races right in the middle of one of the most popular vacation areas in the northeast. Now entering it's 14th season of NASCAR Nextel Cup racing, NHIS currently hosts the Lenox Industrial Tools 300 (formerly the New England 300) and the Sylvania 300.
Website: www.nhis.com
E-mail: info@nhis.com
---
Local Attractions
Other Nearby Attractions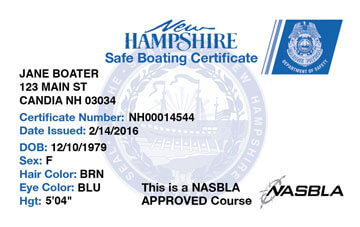 Take a boater safety course by studying at home
and receive your official New Hampshire
boater education certificate!

Click here to learn more about the online safe boating course.
Please kindly send us an email if any of the above links do not work!